Jacobus Vrel, a Northern European painter of the seventeenth century, remains elusive despite scholars' intensive efforts to determine his identity and whereabouts. Such anonymity further inhibits any reasonable attempt to construct a narrative for the figures in his works. These figures inhabit his sparse interiors and walk with purpose through the streets of an indiscernible town, but they appear introverted and preoccupied in a world often described as quiet and unspectacular. Despite this, or perhaps due to this mystery, his paintings captivate our curiosity.
I have sometimes felt trapped in Vrel's work, unable to render a coherent narrative in which he is the author, and I the captive reader. One scholar aptly describes Vrel's ability to "render a mood, not reality " (Bernd Ebert, Cécile Tainturier, Quentin Buvelot (eds), Jacobus Vrel. Looking for clues of an enigmatic painter, Berlin: Hirmer 2021, 52). The uncertainty brought by the pandemic has prompted many people to seek refuge in art which reflects our mood – a mood seemingly detached from reality. Vrel's paintings are ripe for this sort of reflection.
Jacobus Vrel renders an atmosphere which is psychologically charged and one that is difficult to explain as the figures in his painting are so inaccessible. They do not address us with the immediacy of Lady Writing, by the hand of his contemporary, Johannes Vermeer (fig.1). Vermeer's woman seems genuinely shocked by our presence, while Vrel's figures seem oblivious to our contemplative, curious gaze. His street scenes feature people moving across the cobblestone with quiet determination and purpose, completely absorbed in their tasks, and sometimes in quiet conversation with one another.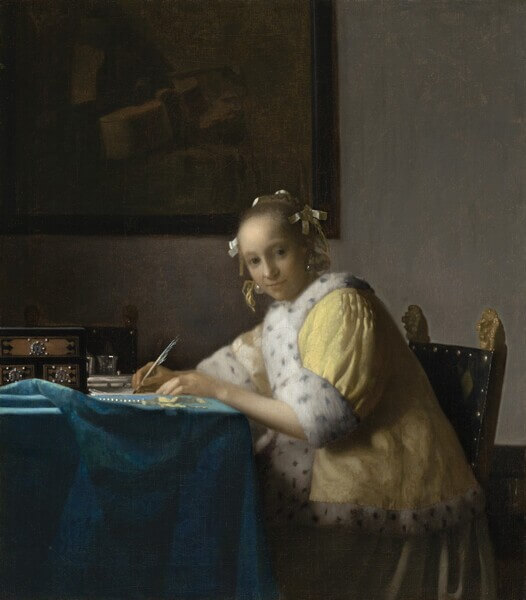 The sharp delineation between public and private lives pervading his works, often orchestrated through a vexing hodge-podge of architectural elements, resonates with us, especially given our limitations in public in the last two years. Thresholds such as doors, windows and carefully delineated storefronts and stoops emphasize access (or lack thereof), and they are often punctuated by figures who linger between two worlds: the privacy of their homes and the public sphere of their community. The lone figure of a man, possibly the painter himself, appears repeatedly in his work (fig. 2). He gazes contemplatively at the outside world from his second story window. The bakery below, a business frequently depicted in Vrel's works, evokes in my mind the essence of pandemic Germany during the lockdown. The loaves of fresh bread neatly lining the storefront conjures familiar sights and comforting scents and are significant reminders of continuity, as men and women bustle through the streets with quiet determination.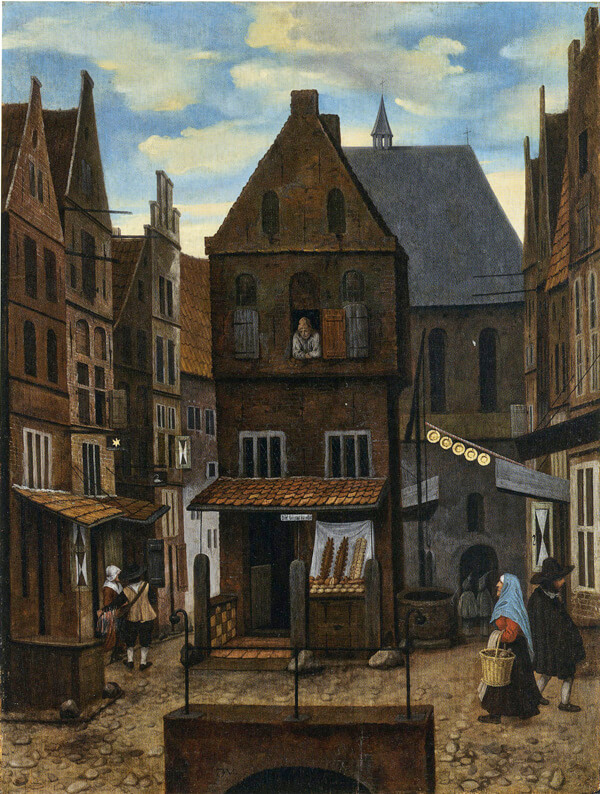 When conversations take place in Vrel's paintings, they appear hushed and convey a sense of urgency so wonderfully articulated in the Munich Street Scene (fig. 3) as the woman in the white bonnet in the foreground leans toward the man with his walking stick. She appears so engrossed in the dialogue that she crosses the threshold of personal space to which we now so carefully adhere in our daily interactions.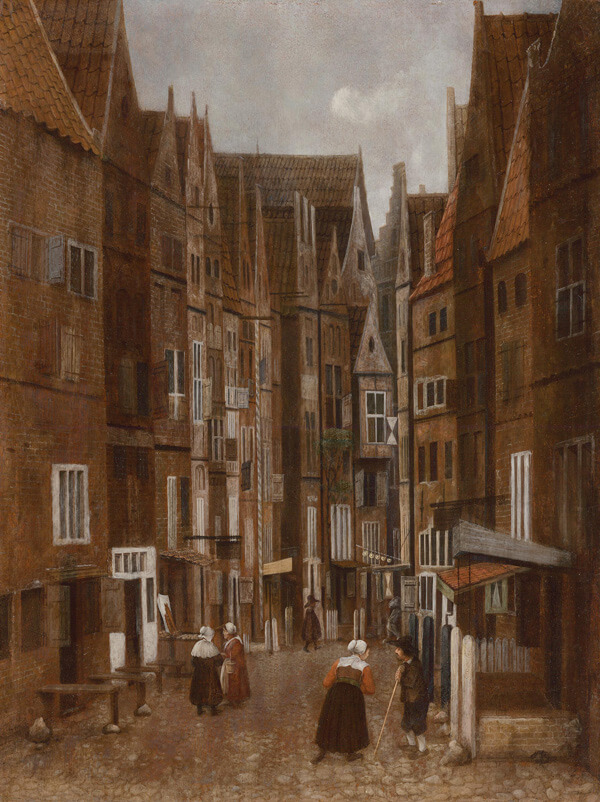 Inside, women appear preoccupied and often exhausted with the plethora of domestic chores which defined the existence of the seventeenth century Dutch wife and mother: cooking, cleaning, child rearing and tending to the ill and infirm (figs. 4 and 5). When these figures are not turned away from us, they appear pensive, and the invitation to contemplate the inner workings of their thoughts is difficult to decline. For so many of us who had to restrict a child eager to play from leaving the house or tend to a sick relative at home, Vrel's paintings resonate with our experience.
Whether or not we are aware of it, we consider art through the lens of personal experience, and the relationship between a person and a painting is therefore one of extreme intimacy. Art, however, has the potential to stimulate a response which is simultaneously personal and universal. Vermeer's paintings are often praised for their timeless, universal appeal, an opinion uncontested by this author. But Jacobus Vrel, an early and relatively unknown predecessor to Vermeer, seems to mirror our sentiments in a world currently marred by illness, uncertainty, limitations and solitude.
Despite the fact that we know virtually nothing about the artist, or perhaps due in part to this mystery, we are captivated by his work. Vrel 's paintings invite us to stop and consider the "seemingly insignificant, quiet and contemplative moments of our everyday lives. " (Bernd Ebert, Cécile Tainturier, Quentin Buvelot (eds), Jacobus Vrel. Looking for clues of an enigmatic painter, Berlin: Hirmer 2021, 70). Such moments seem both to reflect our collective response to recent events and to provide profound sustenance for what we are ultimately seeking in an encounter with art: introspection.
KRISTEN GONZALEZ worked as guest scholar at the Alte Pinakothek. She works in the department of Northern European Paintings at the National Gallery of Art in Washington, DC and is currently writing her dissertation on the symbolism of the parrot in Renaissance and Baroque art of the Netherlands and Germany at the Universität Konstanz.
The purchase of Vrel's 'Street Scene,' with the help of the Ernst von Siemens Kunststiftung represents the Alte Pinakothek's first acquisition of a major work by this enigmatic painter and is currently presented together with the first monograph and catalogue raisonné on Jacobus Vrel, "Jacobus Vrel. Looking for clues of an Enigmatic Painter". Further information on the current presentation at Munich's Alte Pinakothek can be found at www.pinakothek.de/en/vrel
---
---